Moderator: Moderators
We just had the air show as we were moving in!! Awesome sight and so low over the back garden
---
Senior Poster
Posts: 328
Joined: Sat Jul 30, 2011 3:33 pm
Location: Oslo Norway
Contact:
Love all the comments here.

Yep guilty of just facebooking the RCOC for my coupe fix. How many hits are we getting on that page, it seams very active which we should celebrate and encourage.

We should post more links to this site. I think its better posting a proper thread on here and post that on the FB page for quick comments. This way we can combine the two resources, I think this is important to do as many clubs and forums are going through the same with FB. Get every thing under one banner of RCOC, every post on here should be posted on FB too. Can we have a share or post button on the bottom to make this easy? Possibly some way of linking comments from FB to the forum post so communication goes both ways?

Still here, still driving, still grateful. Wish I had been back to UK in last two years to meet in person again and see the cars.

Thinking how I can be helpful and contribute, apart from doing my best to show people who have never seen one before, quite a nice thing to do actually.

I like roads and driving them, ideally in my ideal car the Rover Coupe. And I know you do to. To be honest a good road really turns me on when I see it for the first time and to be in a Coupe with the roof of is all I want.

SO I will sort my photos out..
(Actually this is one thing on here that is much better then FB, photos. The quality of upload on FB is poor and the hosting on Photobucket and links here are much much better. We need to use this in our favour. We should find more things like this, reasons RCOC forum is better then FB.)

I have a list or roads that I have driven that are amazing in a coupe, yes a lot are in Norway and nowhere near you right now, but nothing more than a few hours drive away in reality. Also I have favourite roads in the UK. You know that road that you go to on your own when you told them you where popping to the shops, and all you went to do was drive the coupe like is was made to be driven, all on your own spinning the wheels...

I will get my maps and notes sorted, and start a thread on this.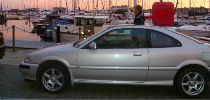 Coupe for life KBL
---
Coupe Super Poster
Posts: 3430
Joined: Thu May 17, 2012 8:36 am
Location: Cambridgeshire
Contact:
Thanks for all the replies and keep them coming
Lot off enthusiastic lengthy comment, all I was after was a Hi.
A wealth off ideas!
Now for the hard bit which is turning some off then into reality
With the write organisation and /or help this can be done. If we can get rear quarter panels and lower repair panels remade by working together think what else can be achieved over time.
---
Coupe Super Poster
Posts: 3430
Joined: Thu May 17, 2012 8:36 am
Location: Cambridgeshire
Contact:
I hope you are settling in well, Did you move from far away?
I lived in Sawston for 28 years so now the area well and indeed live just the other side off Cambridge now just off the A14.
It could be time to get some local meeting up and running soon as the our now a though Coupes scattered around Cambridgeshire!
---
Not that far we were in bishop's stortford before, Duxford village is really nice we are very happy here. I decided to take the coupe off the road to finish the last of the mods, my h&r suspension has arrived from Germany, I have an MLS head gasket to go on and some wossner forged pistons to fit not to mention the rear quarter panel when that is ready. All these things will transform the car and future proof it. I have organised a rally for next year from bishops stortford to lake orta in Italy so it needs to be in perfect order by July next year. Once it's back on the road it would be good to organise a meet in Cambridge and meet some of you here, let's see what we can do......
---
Users browsing this forum: No registered users and 10 guests